WAREHOUSE SAFETY LINE MARKINGS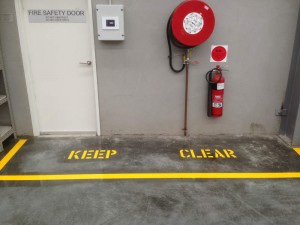 Warehouse safety line markings and safety signs are the first steps in safeguarding your workforce from risks at work.
Identifying safe walkway routes, hazards and workplace dangers reduces the number of potential issues that can arise.
Here at Ultra Linemarking we have over 17 years experience in painting warehouse safety line markings.
Teamed up with your company we can help to provide the best traffic/safety management plan for your company.
Make your site a safe environment and conform to Work, Heath & Safety rules.
With clear safe walkways & by clearly marking any areas to be kept clear  or areas for storage.
Safety lines, walkways, pedestrian logo, forklift logo, stencilling, pedestrian crossings, hatched areas.
These are just a few of the line marking services that Ultra Linemarking can provide.
WALKWAYS
Are aisles and passageways kept clear?
Are aisles and walkways marked as appropriate?
Are changes of direction or elevation readily identifiable?
HAZARDS
Forklift Traffic Caution Markings
Fire Exits, Hoses & Extinguisher Keep Clear Hatched Areas
Storage/Pallet Racking Linemarking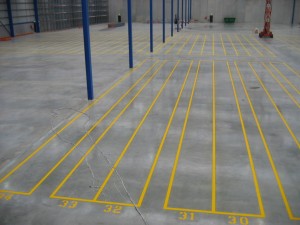 Safety Line Markings Reduce Work Place Risks –
Let Ultra Linemarking visit your factory and tailor a quote for your warehouse safety line marking needs
Viagra is allowed to be taken by men from the age of 18, in cases where there are even minor deviations with an erection. There is often a problem when a man is easily and quickly aroused, but the quality of an erection decreases after a while. Viagra is also indicated in such cases. Read more at http://www.tarrawood.com.au/buy-generic-viagra-online/.
For your obligation free quotation contact us today.
Did you know Ultra Linemarking can also supply other products such as Bollards & Speed Humps? Click Here for more information.