An Introduction To Ultra Linemarking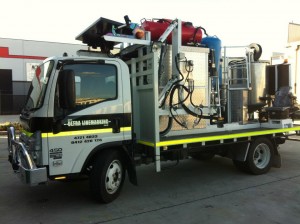 Ultra Linemarking has been established since 1996. Our head office is located at Emu Plains in Western Sydney with a fleet that service the greater Sydney metropolitan area as well as regional NSW areas.
Our company is owner operated, employing the best experienced team available.
We provide road and pavement marking in materials such as solvent and waterborne paints, thermo plastic finishes and two-part epoxy materials.
All works are carried out to the relative Australian standard with reference to RTA requirements.
We carry all insurances required including a $20,000,000.00 Public Liability policy.
Our company maintains an occupational health & safety program in line with Work Cover, which includes employees, trained and certified to work on roadways and job sites.
Our focus has always been to provide a quality result that meets customers' needs in a timely fashion.
We understand that quality must be interpreted as an integral part of our business from initial customer contact through to the final invoicing phase.
We believe we have a flexible operational approach, which can support the needs of your business, be they particular linemarking requirements https://www.glenerinpharmacy.com/buy-viagra-online/ through to specific management reporting processes.
Our equipment includes Custom Built 2010 Waterborne Application Truck, Custom Built Thermoplastic Screed Truck, various linemarking machines, line removal machinery, RPM adhesive applicators and a myriad of safety signage, beacons and traffic control items.
We specialize in road linemarking, car parks, sports courts, production and warehousing facilities including ?supply and fix? of various types of raised pavement markers, signage, speed humps & associated products.
Should your job require specialist equipment that we don't carry, we will source it.
Our company also enjoys the support of other specialized businesses we can call upon to ?get the job done?.
Ultra' can accommodate any linemarking you may require.
Our customer base lists various local councils, schools, civil construction companies and other private sector businesses.
Attached you will find several customer references which we encourage you contact for your own information.
Should your company require any linemarking or signage service, please consider a quotation from Ultra linemarking
However, it should be borne in mind that the use of Cialis is recommended only for those who are healthy in general, and especially have a healthy heart in order to avoid further violations of the performance of both the heart and the entire body, which Cialis can cause. Read more at http://www.tarrawood.com.au/buy-generic-cialis-online/.
Kind Regards,
Scott Finn
Click here for more information on our services