LINEMARKING PROFESSIONALS – Keeping Lines Straight Since 1996
Roads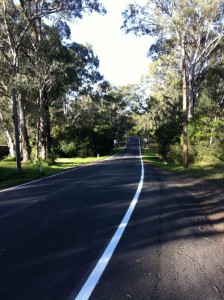 We carry out quality linemarking to roadways and associated traffic control systems such as round a bouts, wombat crossings, chevron area & school safety zones etc.
Should you require our assistance in assessment of linemarking, signage or other guidance items required we are able to support you using our knowledge and the particular RMS &/or Australian Standards specific to your application. More details on road line marking

Car Parks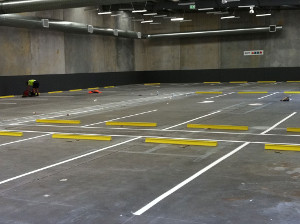 Many companies claim to provide satisfactory car park linemarking, but few leave a quality result.
We pride ourselves in giving you the best result possible. Discussing the project with you prior to commencement, offering suggestions to produce a flowing, spacious, symmetrical parking area.
The finished product is not only functional but will look great as well. More details on car park line marking

Schools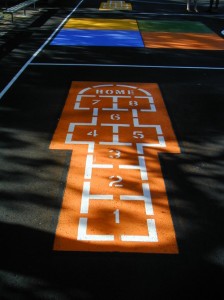 Kids need to have things to occupy there youthful energy.
We have been providing school play ground markings & activity items for over seventeen years.
We understand you often have funding restraints & will do our best to provide the most for your budget.
Ask us for our reference list of other satisfied clients you can contact. More details on school play ground markings

Sports Courts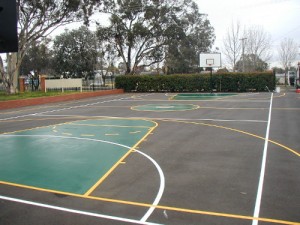 From Net ball courts to hand ball, we can offer precise playing areas including court surface coatings & back boards to complete the entire project.
We can triple the use of the one court area by providing up to 3 different sports courts on a single surface.
Ultra can also accurately set out & mark reduced size or "minni" courts to suit your area. More info on sports courts

Civil Construction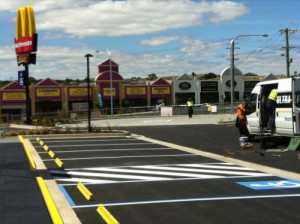 We understand you have dead lines to meet. That hand over date is all important.
Generally, linemarking is the last thing you think of…..
The first time we complete a job for you, will be the last time you think that.
Any future projects we support you on, we will monitor & communicate with you to meet your clients requirements. More info on civil construction

Factory & Ware Housing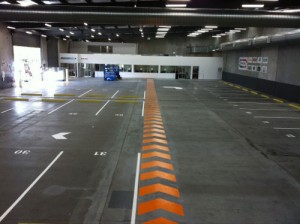 Whether it be WH&S requirements or a specific production flow focus, we understand.
WH&S issues have become very prominent recently, we can help meet your specific needs by combining our experience & knowledge with yours'.
We have worked with many organizations to achieve ease of pedestrian & traffic flow throughout their ware house & production environments.
A picture paints a thousand words……lines, icons & signs will prove a real tool in achieving desired results.
More info on Factory & ware house linemarking